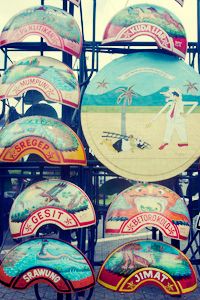 Indonesia is known for its amazing tourist destination and also its friendly natives. No wonder if annually, millions if people keep visiting this tropical country. However, because there are thousands of tourism spot in there, some people find it hard to decide which city and place will suit them best. Well, basically, you just have to decide what your preference is first. If you like beaches, Gili Trawangan can be one of the best options you cannot miss. But if you like studying this country cultures and histories, I think I have the perfect place for you, Yogyakarta.
Yogyakarta is one of the most visited cities in Indonesia. Its culture, culinary, and friendliness have become its main attraction. From the famous gudeg to legendary Prambanan temple, there is always a reason for tourist, local and also international, to step their feet on Yogyakarta's ground. You will always get beautiful and sincere smiles from its citizens. You also will smile when you find that living in this city is extremely affordable. But, what is the real deal about this city? First, or course, its culture is the main reason. Javanese culture has become one of the most important aspects of Indonesia. And there is no better place to study it but Yogyakarta. Its local government has been trying so hard to keep this city's traditional virtues, making it a beautiful tourist attraction. Do you want to wander all around the city riding a pedicab? Pedicab drivers will always be ready to take you exploring the city. You may also want to look for some local souvenirs such as bracelets, necklaces, shoes, or other unique and antique stuffs, Malioboro Street is the perfect place for you.
You can also visit two biggest temples in Indonesia, Prambanan Temple and Borobudur Temple. The largest Hindu's temple, Prambanan Temple, will offer you with its Ramayana ballet, a marvelous performance of drama and dances trying to depict the legendary epic story of one most distinguished and well known Javanese culture. Built in 8th century, the Buddhist temple, Borobudur, also offers its own unique characteristics. You can see its culture mingled with wondrous green scenery of hills and forest around it, providing you with strange feeling when you are brought to the sacred ambient of the temple. But how about accommodation in this city, where can you find one? You can stay in Joglo Plawang if you want to feel a different guesthouse atmosphere. The traditional property will spoil you with its unique characteristic. Or if you are looking for a class, Amanjiwo hotel can be the best option. The resort offers you with quality you will never be able to find it in any other place in the world. Now you already know what to do and where to stay, but how about what to eat? As I mention earlier, do not miss trying gudeg. Made from jackfruits, this delicacy provides you with sweet spicy taste, a unique balance of east culinary masterpiece. Have a wonderful vacation in Yogyakarta.
As reported by Wahyu Prasetya, an independent journalist at http://holidayreview.blogspot.com/